WW1 Great War Centenary - Manufacturing in Wolverhampton

Links for SO9197
---
Sunbeam Ltd
John Marston's Sunbeamland produced aero engines, components and general machining together with shell parts. The factory continued with the production of cycles including large orders of the 'Military Sunbeam' for the French Government. Of the 830 employees 230 were female.
The company resumed after the war and continues as the specialist Marston Aerospace division of UTC Aerospace Systems.
The factory building has been empty for many years and is now finally being converted to apartments.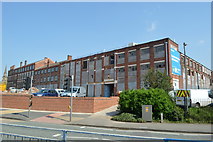 The former cycle factory on the fringe of the town centre will be converted to apartments after lying derelict for many years.
by John M
The locally listed former cycle factory has been derelict for many years whilst developers have proposed various uses. At last conversion to apartments is underway and the building is currently being transformed.
by John M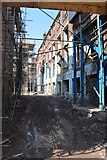 The sheds within the courtyard have been demolished. The concrete lift shaft suggests further construction work is planned.
by John M
---

Further links for SO9197
---
( Page
< < prev
1
2
3
4
5
6
7
8
9
10
11
...
next >>
)