WW1 Great War Centenary - Manufacturing in Wolverhampton

Links for SO9197
---
AJ Stevens Ltd
The firm manufactured motorcycles and sidecar from their new works on Graiseley Road with offices in Retreat Street. Production of civilian motorcycles continued until November 1916 when new vehicles for private use was stopped. Production was switched to military motorcycles, machine gun outfits and ammunition carriers for the Army and Russian Government in conjunction with C W Hayward sidecars.
After the war the company merged with Haywards but were overtaken by a shift towards affordable motorcars and were wound up in 1932.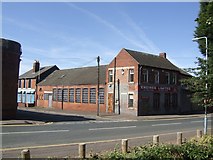 Following the demise of the Wearwell Company the four Stevens brothers started manufacturing motorcycles from these modest premises on Retreat Street. To satisfy increasing demand the AJS company moved to a new 200,000 square foot works on Graiseley Hill in 1915. Financial difficulties led to the liquidation of the company in 1930 and AJS was sold to Matchless of London. Some other Stevens family businesses continued: Stevens Screw operated from these premises until 1992.
It is interesting to see an engineering company occupying the premises
SO9097 : Monumental change
. If you look closely enough the AJS name is just visible.
by John M
AJS Motorcycles and Company Limited was founded on 14th November 1909. The Stevens brothers had specialised in the manufacture and supply of engines to other manufacturers including Clyno and Wearwell. The demise of Wearwell in 1909 and loss of a major outlet for their products prompted the brothers to manufacture their own motorcycles. Initially the bikes were assembled in Retreat Street with engines and frames produced at their Pelham Street Works.
A group of enthusiasts gathered to mark the occasion with several historic 1920s cycles on display.
by John M
This accountancy business is located on the corner of Graiseley Street and Penn Street.
This used to be where AJS manufactured motorcycles until 1917, after which A J Stevens's father (then his son) had his screw factory until 1992. A very comprehensive account of the site can be seen here
Link

by Roger Kidd
---

Further links for SO9197
---
( Page
< < prev
1
...
5
6
7
8
9
10
11
12
13
next >>
)