Page 11
Kennet Avon Canal Devizes to Bradford on Avon
---
=============================================
Underwoods Bridge no. 171 :
===============================================
2009
2011
2017
2017
2015
2009
2011
2017
2011
2009
These canal boats seem to be closed up for the winter as everything from wheel barrows to bicycles, plants to logs, garden furniture to watering cans have been pack onto their roofs.
by Maigheach-gheal
2009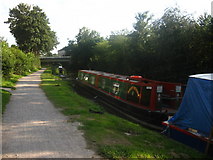 Narrowboat 'Barbary Partridge' in evening shadows by the Kennet & Avon Canal towpath, near the Moulton Drive road bridge.
by David Roberts
2009
Willowherb on the canal bank largely hiding a narrowboat on a sunny evening on the Kennet and Avon canal at Bradford-on-Avon.
by David Roberts
2005
- Officially known as Underwoods Bridge, Moulton Drive passes over the bridge named after a local manufacturer of folding bicycles whose works were once nearby.
2009
A number of boats shelter under the road bridge. One appears to have been there for some time.
by Maigheach-gheal
---
---
Great Britain 1:50 000 Scale Colour Raster Mapping Extracts © Crown copyright Ordnance Survey. All Rights Reserved. Educational licence 100045616.
---
( Page
< < prev
1
...
6
7
8
9
10
11
12
next >>
)