Geo-Trips :: Signal boxes on the Grantham to Skegness railway line
Grantham to Skegness Railway
A drive from Ancaster, Wed, 19 Nov 2014 by Alan Murray-Rust
The railway line between Nottingham and Skegness is one of the longest still almost entirely controlled by traditional manually worked signal boxes.
On this trip I set out to cover the section of the line that I had not previously visited, working eastwards from Ancaster, the first box east of Grantham.
(West of Grantham there are still boxes at Bingham and Bottesford West Jct (both due for closure in 2015) and Allington West, but these were not included in my trip).
I had previously visited Sleaford itself where there are still two manual boxes, so by-passed this, and the short day precluded getting to Skegness in daylight.
On the map below, the grey line is the GPS track from this trip. Click the blue circles to see a photograph taken from that spot and read further information about the location. The blue lines indicate the direction of view. There is also a slideshow of this trip. ( )
↓ Scroll down here ↓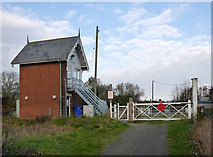 Ancaster signal box and Pottergate Road level crossing
Pottergate Road is a restricted byway, so the gates probably see very little use.... more

Rauceby level crossing
The view west along the railway. Traditional wooden gates, and a nice traditional... more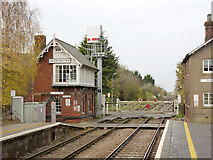 Looking west at Heckington Station
The signal box is Listed Grade II, and the level crossing still has traditional... more

Skegness train passing Hubberts Bridge signal box and level crossing
This train is not one of the two daily trains in each direction booked to stop... more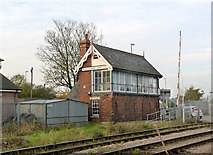 West Street Junction signal box
Great Northern Railway signal box, dating from 1875. Listed Grade II in 1986,... more

Sibsey Level Crossing and Signal Box
Traditional signal box and level crossing with timber gates. The box still... more

Bellwater Junction signal box
The 'junction' element now consists of a crossover between the up and down tracks,... more

Thorpe Culvert level crossing and signal box
The box was built as recently as 2003, in traditional shape. Compare this with... more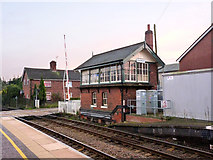 Wainfleet signal box
The box is substantially unaltered from its construction in 1899, and is one of a... more
All images © Alan Murray-Rust and available under a Creative Commons licence

.